Discover more from things that I write
The hottest gossip on armadillos
small universe and the news!
July 17, 2020
Looking at my calendar and seeing the scratched trips to Canada and Ireland we had planned for this month really brought home how our world has shrunk in a blink. I'm slowly amassing an assortment of exercise gear for all of us. Gyms and baseball practices are out for now. Are you seeing all the extra critters around lately? It has to be the convergence of being mostly homebound and attuned to every detail of the yard, and a slightly lessened human footprint on our streets, but birds galore! Very territorial squirrels! And this guy.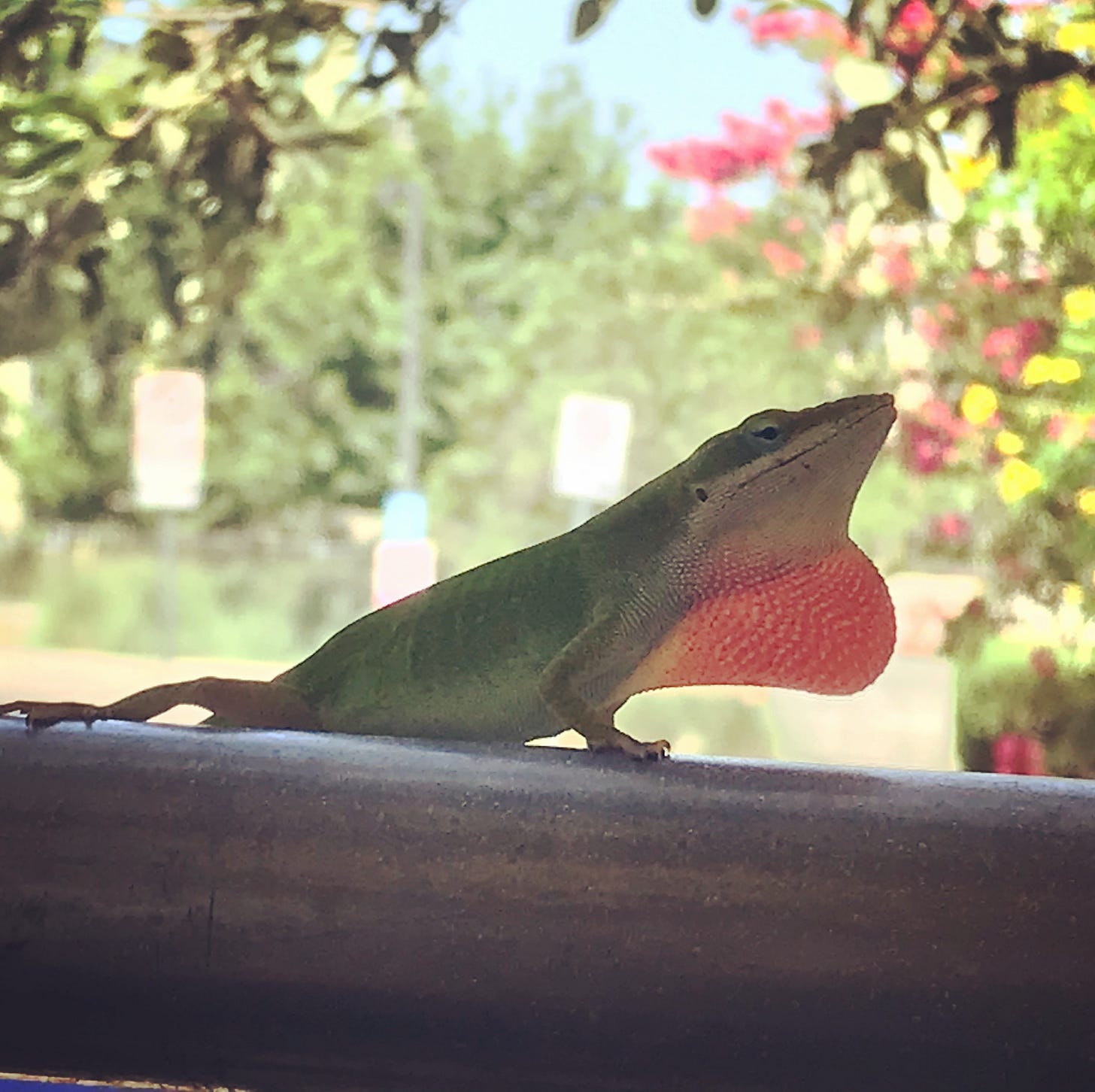 I enjoyed reading this article about Patti Smith's antidote for insomnia. Sometimes, I play a similar insomnia game where I work through the letters of the alphabet and generate boy and girl names, a muscle from improv that I still try to work. I wake up just about every night after approximately three hours of sleep and my brain just whirs. Thinking about the day's events, coming up with witty retorts to things said to me that I didn't have during the day, and solving problems big and small.
DeVos and the White House threaten to withhold funds from schools that don't reopen in the fall. Mostly they can't do that - by law, but if history is our guide, you know these ghouls will be working hard to punish schools for being sensible about risk. And it will fall on the backs of the least priviledged.
The truth is, all that time in lockdown was wasted. We didn't scale testing to an appropriate level and we didn't develop the protocols to safely run schools. Instead, we opened bars and restaurants, and now we're in a worse place than ever. And wearing a mask -to prevent getting others sick- has become a political choice, the "freedom" to pass disease to others. We shouldn't even think about opening schools until there is a plan, and we need to support teachers in this fight.
I'm encouraged by the elections here in Texas. MJ Hegar is advancing to take on John Cornyn. Need to pray on the rosary for that one. Double the usual turnout for a Democratic primary during a pandemic. We are getting a progressive for District Attorney here in Austin, seeing a bunch more great candidates advance in statewide and congressional races, and I love seeing the polls that show Biden within striking distance of taking the state. Good stuff.
—-
Austin, Texas, Just Voted to End the Drug War